« Shows & Personalities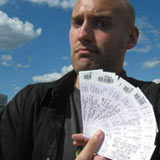 Parker
On Air:

Weeksday, 2pm - 6pm & Saturdays Noon - 6pm

Email:
Parker was born and raised right here in the capital city (Go Quakers!). Over the past 15 years he has been heard all over Lansing. He also lived in Ft. Wayne Indiana for 5 or 6 years (which sucked) and in Los Angeles for a year (which was AWESOME!)

While in L.A. he studied Improv comedy at The Groundlings Theatre. "Flo" from the Progressive commercials was one of the instructors. He also did some commercial acting. If you look closely he can be seen in the background of a Pepsi Max ad dressed as a clown.

Here is an obligatory list of things Parker likes:

Hitting the gym
The Detroit Red Wings
Playing Soccer (not watching)
Made to order Burritos
Video Games
Cigars and Scotch
Disc Golf
His pet parrot Scooter
AND MORE!!!!!!