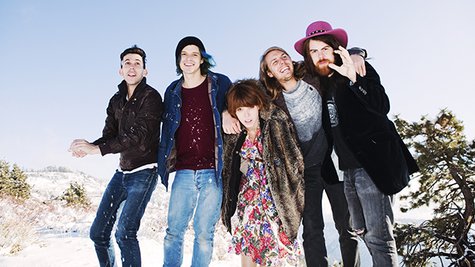 Wanna know what the Grouplove crew did while on tour? Wonder no more. Paper magazine has published some entries from the band's tour diary, complete with picture of topless girls, hanging with Beyonce , vinyl shopping and eating bad food.
Singer Hannah Hooper is the narrator and details fun excursions to the SubPop record store that's in the Seattle Airport. She also complains that she missed hanging out with Beyonce at Coachella. "I am SO bummed...because I was not there," Hooper complains. "I was at the hotel extremely hungover while everyone went back to the fest...and got to hang out with Beyoncé. I was so upset. We'd been doing a cover of 'Drunk in Love' during our sets and they told her about it and she got really excited."
Checking out Grouplove's tour diary might whet your whistle for I'm With You , a documentary featuring interviews with the band and performance footage shot during a week's worth of shows in New York City on their 2013 SeeSaw tour. If you buy the movie, you'll also get a six-track EP featuring live versions of "Colours," "Schoolboy," "I'm With You," "Raspberry," "Ways to Go" and "Gold Coast," all recorded during the SeeSaw Tour.
I'm With You is available on iTunes and at Amazon.com.
Follow @ABCNewsRadio Copyright 2014 ABC News Radio