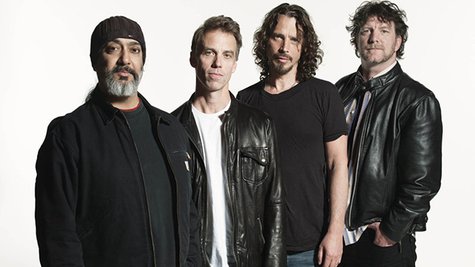 You wouldn't think there'd be many performers who could make Chris Cornell feel inferior, but it turns out there's at least one: the Seattle street performer named Artis whose nickname is " Spoonman " and who was the inspiration for the Soundgarden song of the same name.
In an interview with Rolling Stone to mark the 20th anniversary of the band's classic album Superunknown, on which "Spoonman" appeared, Cornell says Artis "changed my life." The street performer uses only spoons to play music, sometimes with a guitarist for accompaniment, but gets an enormous reaction with this stripped-down arrangement. Cornell says that Artis inspired him to do his "one-man acoustic show."
The Soundgarden frontman says, "I remember sitting in a room with eight or 10 people and [Artis] walked in with this leather satchel...and took spoons and stuff out of it. And everyone's jaw dropped...and I suddenly felt kind of embarrassed and smaller, 'cause...I call myself a singer, a songwriter, a musician, and I've sold millions of records and toured the world, but I can't just walk in a room, pick up an instrument and entertain everyone and [make] their jaws drop."
"Spoonman" and "Black Hole Sun" from Superunknown both won Grammy awards, helping to make that album Soundgarden's best-selling to date. On June 2, the band will take the stage at the intimate Webster Hall venue in New York City and play Superunknown from start to finish, marking only the second time in history they've done so. Cornell also says he's leaving open the possibility of playing the album when the band tours with Nine Inch Nails this summer.
On June 3, Soundgarden will release two deluxe CD editions of Superunknown , and also a vinyl version. The deluxe editions will include previously unreleased rehearsal recordings, demos and b-sides.
Follow @ABCNewsRadio
Copyright 2014 ABC News Radio