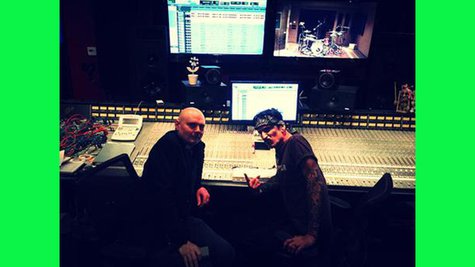 File under: unusual pairings. Tommy Lee lent a drumming hand to Smashing Pumpkins in the studio recently. The Motley Crue drummer has just appeared in a photo on the official Smashing Pumpkins website with Billy Corgan , in front of what is unmistakably a studio recording console. If there was any doubt, Corgan's caption reads, "Here's a shot from the mission out west. Just finished round 1 of tracking drums with Tommy Lee for the new the Smashing Pumpkins album. Shockla-locka-boom. Yes, that T Lee for all 9 songs of Monument to an Elegy ."
How'd it go? A source close to Lee tells ABC News Radio exclusively, "Tommy said, 'It was killer!'"
The news that Lee -- who is known for pounding the living daylights out of his drums -- is the official drummer on the entire new Pumpkins album is a bit of a contradiction to what Corgan said just over a month ago when he described the sound as "guitars, guitars, guitars, and more guitars, but more so on the epic side of things than say, grossly metallic."
The update does make good on Billy's earlier promise to keep fans informed about how things are progressing in the studio.
A first Smashing Pumpkins single is expected by the end of 2014. Monument to an Elegy will be joined simultaneously -- or possibly closely followed by -- a second album, titled Day for Night .
Smashing Pumpkins' last studio album was Oceania , which appeared in 2012. In the time since, Corgan has tended to his Chicago teahouse Madame ZuZus , where he sells "gourmet tea...[at] prices that are a little higher."
Copyright 2014 ABC News Radio