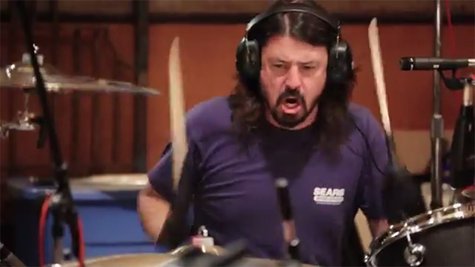 Country music loves Dave Grohl -- well, at least the Zac Brown Band does. The members of the Georgia band are such enthusiasts of Grohl that they've decided to release a behind-the-scenes DVD of their experience with the Foo Fighters frontman during the recording of The Grohl Sessions.
What they lacked in creativity while naming the DVD -- which is called The Grohl Sessions Vol. 1. -- the Zac Brown Band guys made up in enthusiasm. Brown himself opens the trailer for the DVD release -- which hits stores next week -- by grinning and announcing, "I feel like everything has changed since we came in here [to Grohl's studio]. Everything!"
Grohl also chats animatedly about his experience producing and playing on the record, and about helping the country group take their songs that were "kind of written," and then "figure [them] out like a Rubik's cube."
The Grohl Sessions EP was released on December 10. The behind-the-scene documentary The Grohl Sessions Vol. 1. will hit stores on May 19.
Copyright 2014 ABC News Radio