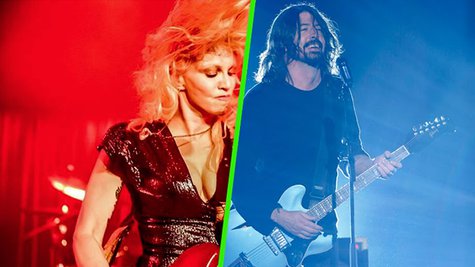 The rift between Courtney Love and Dave Grohl was long, acrimonious and well-documented. So when they hugged last month on stage at the Rock and Roll Hall of Fame induction ceremony during which Nirvana was inducted, a significant portion of the audience gasped.
Love has now publicly commented on the hatchet-burying. She tells Pitchfork , " We just both knew it was time to let it go, and we were ready to do it."
Courtney says she ran into Grohl o n her way to the bathroom. "He came up to me first -- which really pissed me off, because I was going to go up to him first... I wanted to beat him to the punch," she says. "I was like, 'All right, no matter what happens, we're not going to be bitches.' That was my attitude going in, and obviously his."
Love also says that after the hug heard round the world, someone suggested to her that the two of them go into the backstage press room and hug for the cameras. "I was like, 'What? Nooo,'" she says. "We hugged privately. We didn't whore it out. It was genuine."
Courtney also said she initially had misgivings about the idea of the ceremony's female-fronted Nirvana performance. "Initially, I thought it was sexist, and a little bit ghettoizing," she tells Pitchfork. "But then I was like, 'No, Kurt would have loved this.'"
HBO will air an edited version of the Rock and Roll Hall of Fame induction ceremony that will premiere on May 31 at 8 p.m. ET.
Copyright 2014 ABC News Radio