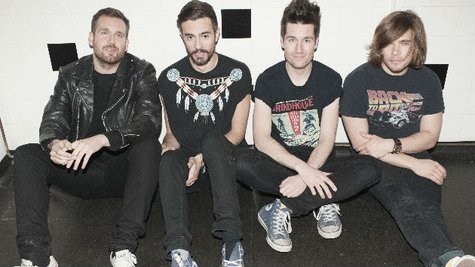 British band Bastille first released their single "Pompeii" more than a year ago in their native U.K., but now that the song has become a global smash worldwide, they're more in demand than ever. The group kicks off an additional leg of U.S. dates on Monday night in Chicago, and they'll be touring coast to coast through June, with several stops at major festivals like Coachella. What can fans expect? Rawness and lunacy, according to the band's drummer.
"The live shows are a little bit more raw than the album...maybe a little bit rockier and heavier in places," Bastille drummer Chris "Woody" Wood tells ABC News Radio. "But I mean, you basically see Dan, our singer, jumping around, looking like an absolute lunatic for about an hour and a half."
"I think we've got a fairly varied set," he adds. "There's quite upbeat moments, there's also quite downbeat, minimal ones, too. We just go and try to give the kind of best representation of ourselves possible." While the band's concerts feature numerous songs from their debut Bad Blood , the highlight is, of course, "Pompeii," lead singer Dan Smith 's imagining of a conversation between the residents of the ancient city of Pompeii, right before a nearby volcano erupted, burying the city and its inhabitants in ash.
"I never get bored of that, ever, I don't think I ever will," Woody says of performing the song they've now literally played hundreds and hundreds of times.
"I think when you play a song quite a few times, you often kind of find different aspects of it that you like more than previously. But, I mean, that's a song that everyone seems to know," he adds. "It's kind of nice to have that, obviously, 'cause, [let's] say the crowd aren't particularly receptive --we've got, like, a Get Out of Jail Free card!"
As for why he thinks "Pompeii" has become such a big it, Woody thinks it's because the kind of song everyone can sing along to.
"I think the kinda 'chant-y' hook at the start, that's quite universal, obviously," he says. "Because it's not in any sort of exact language, anyone can kind of latch onto that. But I think it's quite a fair representation of the kind of overall sound of the band...it's got the big drums, it's got the catchy hooks and the backing vocal."
The song is definitely speaking to one particular type of fan: teenage girls, who can get quite worked up over the band -- Dan, especially, draws screams and shrieks. But Woody says it hasn't become much of an issue...at least not yet..
"On occasion we do get the odd screaming girl, maybe, but I wouldn't say we're being mobbed just yet," he laughs. " It happened to us once, I think it was in Minneapolis, where, basically, these teenagers managed to break into the radio station and we had to basically kind of leg it out of the fire escape and run to the car! But I wouldn't say it's quite Beatlemania just yet."
Copyright 2014 ABC News Radio