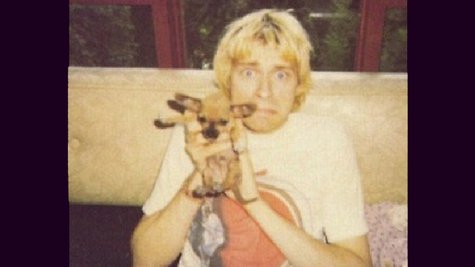 A very important-sounding tease by a TV station in Seattle about "new information" in the death of Kurt Cobain turned out to be...well, pretty much nothing.
On Thursday, KIRO TV in Seattle teased a story that Seattle police were reexamining new photos of the death scene. The station reported that four rolls of film snapped at the scene where Cobain's body was found, but that were never processed, were being developed by police. According to KIRO , the images were of higher quality than the Polaroids that were used in the original police report. The station also said it had obtained an image "of new evidence" from the scene that had not previously been made public, which it promised to air that evening.
The teaser apparently had the unintended effect of annoying the Seattle Police Department which requested that KIRO stop referring to the case as "reopened" -- something the station's website now refers to as a dispute over "semantics."
In an interview aired on KIRO and also available on the station website, Seattle cold case Detective Mike Ciesynski says the four previously undeveloped rolls of film were not just higher-resolution snaps of the crime scene, but were in fact the same images as the Polaroids and used in the original investigation. Ciesynski said it's standard practice for Seattle PD to develop the 35 millimeter rolls only "if we were looking for something specific that wasn't shown in the Polaroids."
Ciesynski also explains that he made the decision to develop those films in order to "clear up some issues that made people believe that there was some kind of cover-up." The detective also stated that the Seattle PD has received requests to reopen the investigation many times in the almost 20 years since Cobain's death, mostly from conspiracy theorists who believe the Nirvana frontman was murdered.
Bottom line: Detective Ciesynski said there was no new information revealed in the high-res photos, and there's no evidence whatsoever that suggests that Cobain didn't die by his own hand.
The one interesting point Ciesynski made in the KIRO interview is that the amount of heroin found in Cobain's body was "an extreme amount of heroin...about ten times what...even a heavy heroin user...would have taken." The Detective stated that it was undoubtedly a lethal dose, and that if Cobain hadn't shot himself in the "couple of minutes" of consciousness he had before the injected dose hit his system, "[the heroin] would have [done] the trick also."
The previously-unreleased photo teased by the TV station was of Cobain's drug paraphernalia. Ciesynski says he expects that the high-res images will quiet the conspiracy theorists..."until the 25th anniversary comes up."
Kurt Cobain's body was discovered in the room over his garage in Seattle on April 8, 1994.
Copyright 2014 ABC News Radio