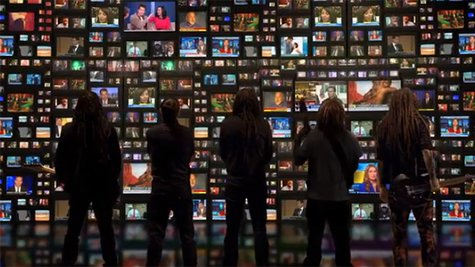 The video for Korn 's latest single, "Spike in My Veins," has ignited some controversy, so much that singer Jonathan Davis tells ABC News Radio, "I think [that] as a band, we're gonna cause some kind of ruckus, but we really didn't understand at the time that we'd cause this much. I mean, it was really really strange to watch this all happen. We didn't think it would get this big."
The video is a straight-out slam of what the band members see as the state of personal privacy -- or lack thereof -- in the world today, and features clips of President Obama giving an official address to the nation, spliced with a clip of his appearance on Late Night with Jimmy Fallon , interspersed with appearances from Justin Bieber, Miley Cyrus and a bevy of politicians.
What's the message? The band believes that the U.S. government waits for crazy, headline-grabbing celebrity stories and seizes the opportunity to pass restrictive laws when very few people are watching. Davis tells ABC News Radio, "I've never really been a political person...but to... hear about Obama passing all these crazy laws, and the NSA spying thing and all that stuff...it just really intrigued me."
"[Miley Cyrus was] just going up there and acting a fool [twerking at MTV awards], and everybody loves that, and that's all everybody cared about at that moment," he continues. "And no one was really focusing on what was going on with the government taking away our liberties, the NSA spying, all that stuff."
Despite the band's including Cyrus and Justin Bieber in the video, Jonathan Davis says he's got no hard feelings toward them -- in fact, he tells ABC News Radio that if Bieber came to a Korn show, "Of course [I'd let him in]. I can't hate on that kid. None of these people know that they're being used as distractions."
"That kid's...larger than life, he's got more money than anything in the world, of course he's gonna freak out," Davis continued, referring to Bieber. "Of course little Miley Cyrus is doing this stuff, because it's fun, it's crazy, and people love [it]."
"Spike in My Veins" is streaming now on Korn's official YouTube channel .
Copyright 2014 ABC News Radio