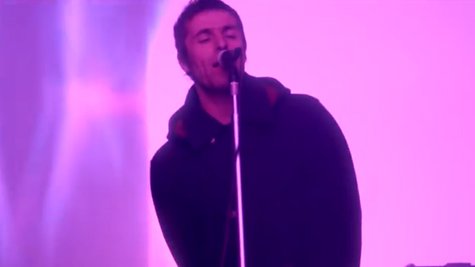 Never let it be said that Liam Gallagher is afraid to shoot himself in the wallet. The former Oasis frontman has lashed out via Twitter, urging fans to boycott the forthcoming 20th anniversary reissue of the band's Definitely Maybe album, set to hit stores this May.
Gallagher tweeted, "HOW CAN YOU REMASTER SOMETHING THATS ALREADY [BEEN] MASTERED. DONT BUY INTO IT. LET IT BE."
Liam Gallagher is known for his outbursts of temper about his Oasis band mates -- even when the band was still together. Last year, the singer put the kibosh on any band reunion, telling Rolling Stone , "If there is a reunion, I won't be in it. I don't think there's any unfinished business. It's like, if you've seen [Oasis], then good for you. If you didn't, then that's f**king tough s**t. I've never seen The Beatles . So there you go."
Should you decide to defy Liam's suggestion to boycott the Definitely Maybe reissue, it will be available on May 20 in four flavors -- a standard CD, a special edition three-CD set that includes B-sides and rarities, a vinyl edition with a digital download bundle and a deluxe box set featuring even more exclusive merchandise. Similar reissues of (What's The Story) Morning Glory? and Be Here Now will follow later this year.
Prior to the May reissue of Definitely Maybe , you'll be able to score a special Record Store Day 12" edition of the Oasis' debut single, "Supersonic," plus two B-side tracks, "Take Me Away" and "I Will Believe" recorded live. Record Store Day is April 19.
Copyright 2014 ABC News Radio