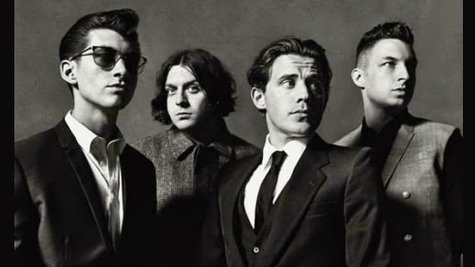 Arctic Monkeys ' latest album is AM -- and unless you've been living in a cave, you've heard and probably sung along to at least a couple of its six-count-'em-six singles. Before AM , the Monkeys weren't very big in the States, and no one was more surprised than frontman Alex Turner when they blew up this time around. Turner tells Billboard , "Y ou can never tell how [an album is] going to be received."
Turner also says that although the band has "been knocking on [America's] door a while...it's been gradually building because you didn't have the explosion of [our] first record [in 2006] the way we did back in England." He also points out that the members were their own worst enemies when they were younger. "We said no to a lot of [promotional opportunities], trying to protect this thing that we created. We didn't burn bridges necessarily, but we certainly didn't do ourselves any favors during our cantankerous younger days."
Turner notes that with age comes wisdom and comfort, and that a big lesson for him and his band mates has been learning to not take themselves all that seriously.
Arctic Monkeys will take some time off before starting work on a follow-up to AM . Turner jokes that it'd "be a good time to get out of the...magazines. We've been pretty omnipresent for a year, so it'd be good to leave it for a minute."
You can check out the rest of Turner's interview at Billboard.com.