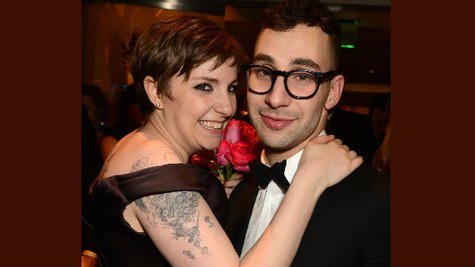 Thanks to his relationship with Girls creator and star Lena Dunham , fun . guitarist Jack Antonoff is in the public eye a lot more than he probably thought he'd be. Since the couple has been together for two years, there's been speculation about whether or not they're going to get married and surprisingly, Jack opens up about that in the new issue of New York magazine.
While he tells the magazine that they're not getting married any time soon, Antonoff reveals that it's something he and Dunham have discussed. "I think all people in relationships that last longer than a year start talking about that stuff," he says. "It's hard to imagine when the right time is because things are so crazy at the moment."
Indeed; he's about to release the first album from his side project Bleachers and has tour dates booked through the summer, while she's busy with her TV work.
Antonoff also reveals that he's "desperate" to be a dad. "It just seems like the most fun thing in the world," he tells New York about fatherhood. "I've never met people who have kids who haven't looked me in the eye and been like, 'It's the greatest thing that's ever happened.'"
He adds, "I think it's biological. I'm 30. I'm not that young...I'm not, like, 24 or 22. I'm no longer in the phase of my life where I talk about everything as in the future. Like, I'm in the future."
Meanwhile, Antonoff and Dunham are simply enjoying their relationship, which isn't as wild as you'd think, considering they're both young, famous and rich Manhattanites. "Here's a perfect story for what we're like," he tells New York . "One time we were at a dinner party where everyone was over 60 and, before we knew it, we realized that everyone at the table had gone outside to smoke pot and they didn't invite us. That basically says it all."
Follow @ABCNewsRadio
Copyright 2014 ABC News Radio