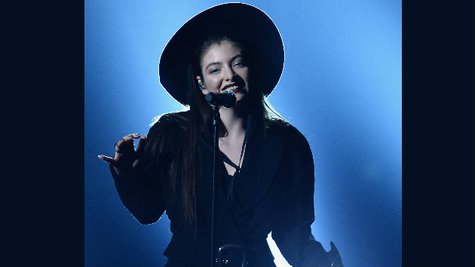 She'll never be royal -- or will she? Lorde is apparently now "Lady Lorde" after a British TV show went to the trouble of buying her a lordship.
Turns out you can buy such titles online for about 19 pounds, about 32 bucks. You get an embossed certificate, and a deed for two square feet of land in England's Lake District. During Lorde's appearance on the BBC's The One Show this week, the hosts, Matt Baker and Alex Jones, presented the singer with the certificate. "Oh my goodness. Is this real?" she asked. "It's my first two feet of land! Thank you! That's really nice."
Of course, Lorde should more properly be known as "Lady Ella," since that's her birth name, but why look a gift horse in the mouth? Besides, "Lady Lorde" is much funnier. On the show, Lorde explained that it was her fascination with the aristocracy in general that led her to choose her stage name in the first place. When asked why she finds royals so fascinating, the singer explained, "Well, I guess it's really like an old-school sitcom!"
The guy who runs the website from which the show ordered the lordship tells the British paper The Evening Standard , "It's a legal English title and dates back to the Domesday Book of 1086. If she wanted, she could update her passport [and] credit cards: some people do that but for most people, it's for fun."
Follow @ABCNewsRadio
Copyright 2014 ABC News Radio