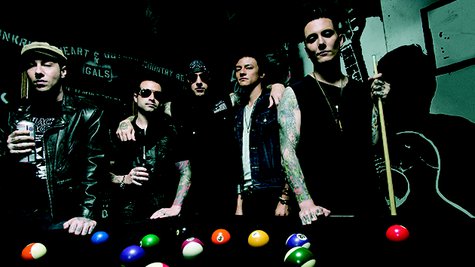 Sure, Syn Gates can make your ears bleed at an Avenged Sevenfold show, but it turns out the guy's got a knack for...gypsy jazz. Believe it -- he tears up a slender acoustic guitar during an episode of Guitar Center's Master Class web series .
Turns out that Gates, who was born Brian Haner, Jr., got the gypsy jazz bug first by watching his father, Brian Haner, Sr. , play country music. Syn liked watching his father, but when he tried to play country himself he got restless and looked further until he found gypsy jazz or, as he says in the video, "I refound it, because I used to love listening to it but it just seemed liked an unattainable art form. But different things [you learn] can add [to your chops] and I found that the techniques, the scales, just the nuance [and] the detail about it to be very useful."
So the next time you're listening to "This Means War" or anything else from Hail to the King , listen hard for the gypsy influence.
You can see Gates play gypsy jazz on the official Guitar Center channel on YouTube.
Follow @ABCNewsRadio
Copyright 2014 ABC News Radio