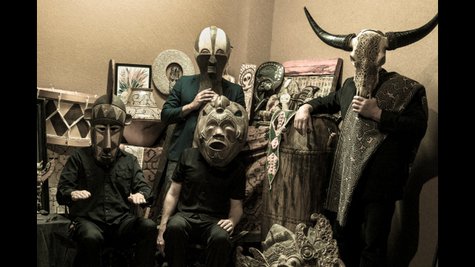 Pearl Jam guitarist Mike McCready and former R.E.M. axeman Peter Buck will appear on the upcoming album by Tuatara , the supergroup of sorts founded by Barrett Martin of Screaming Trees .
The band is currently putting the finishing touches on the new album which follows their 2008 effort, The Here and the Gone . Explaining the lengthy gap between releases, Martin says in a statement, "Tuatara is more of a musical idea than a consistently working band, even though the same musicians always show up when it's time to make a new record. The reason for our six-year absence has more to do with our individual lives and the other bands we play in… Mike McCready is always doing something with Pearl Jam and Peter Buck joined about a half dozen other bands when R.E.M called it quits."
Tuatara makes instrumental music that incorporates not only by rock but also by jazz and electronic music. In addition to McCready and Buck, its members have ranged from Michael Franti to alt-country singer Victoria Williams to Sufi poet Coleman Barks .
Billboard.com is currently streaming "The Skeleton Getdown," a new track from the upcoming project.
Follow @ABCNewsRadio
Copyright 2014 ABC News Radio