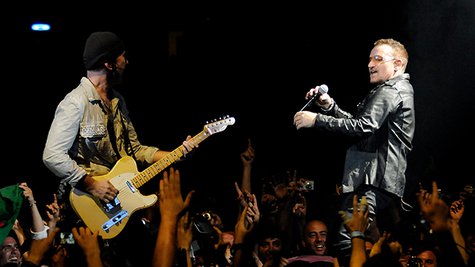 Bono has teamed up with celebrity chef Mario Batali for the " Eat (RED) Drink (RED) Save Lives " campaign. The U2 frontman has posted an Instagram serenade to Batali to kick off the beginning of the fundraiser, in which he sings, "10 bucks. A ginger. A redhead. I'm in."
The video is to help promote an online contest -- with proceeds to the (RED) charity -- where the winner will be flown to New York City, put up in a hotel, enjoy a fabulous dinner made by the winner and Mario Batali, and have a behind-the-scenes tour of Batali's Eataly food market. Depending on the number of tickets purchased, each entry runs between $5-10 and can be purchased on Batali's Omaze.com website .
In addition to the online drawing, from now until June 10, participating restaurants, food trucks and bars are donating a portion of their proceeds to the (RED) Campaign to fight AIDS.
You can find a full list of the participating food and drink establishments on the Red.org website .
Follow @ABCNewsRadio
Copyright 2014 ABC News Radio