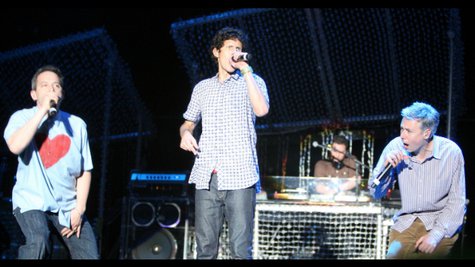 A jury in federal court in New York City has awarded the Beastie Boys $1.7 million in a copyright violation lawsuit they brought against energy drink maker Monster Energy, Billboard reports.
The suit involved the unauthorized use of five Beasties songs in the soundtrack to a four-minute video recapping a snowboarding competition sponsored by Monster. In addition, the next-to-last shot of the video showed the words "RIP MCA" in a Monster Energy style type -- a tribute to late Beasties member Adam Yauch .
The Beasties argued that that particular image implied that the band had endorsed the product, and was directly contrary to a provision of Yauch's will stating that neither his name nor his likeness were to be used in promotional campaigns.
The company admitted in court that it had used the songs without permission, so the issue in question was the precise value of the infringement damages the company would have to pay.

The surviving Beastie Boys -- Mike "Mike D" Diamond and Adam "Ad Rock" Horovitz -- who both testified at the trail, were seeking $1 million for the infringement of their song licenses and $1 million for the implied endorsement. Monster Energy had been seeking to pay just $125,000.
Follow @ABCNewsRadio Copyright 2014 ABC News Radio