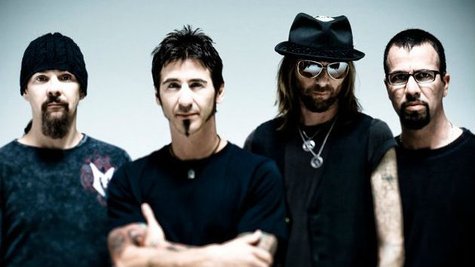 Godsmack 's sixth studio album, 1000hp , isn't due until August 5, but frontman Sully Erna is giving fans a early guide to some of his favorite tracks from the forthcoming collection.
One song "kind of wrote itself"; another already ranks among his all-time favorites; and he tells Revolver a few tunes are "just a little bit different" from the band's prior output.
Erna says inspiration for the album's title track came during a break for dinner when, half-joking, Erna announced to everyone in the studio that he'd write a tune before a mutual friend returned from making a food run.
"And I'm telling you, this song was done, front to back, in maybe an hour and a half," Erna recalls.
"Something Different," says Erna, is "my favorite song I've ever written in my life so far, maybe with the exception of the one I wrote for my daughter on [my 2010 solo album] Avalon ." He adds that it's the last song Godsmack did for the new album.
"Nothing Comes Easy" is among the tracks Erna believes "feel like they have some art to them" and might not seem like Godsmack material on first listen, "but it is Godsmack."
"There's a cool, kinda artsy feel, but it's done in a way where there's still a lot of power and strength," he says.
Follow @ABCNewsRadio
Copyright 2014 ABC News Radio