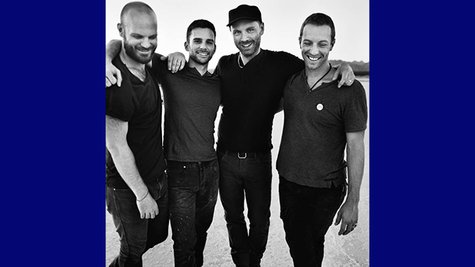 Coldplay has donated about $17,000 to medical research in honor of Jody Duff , a fan who's afflicted with motor neuron disease, also known as MND.
According to the U.K.'s Kent Online newspaper , Duff -- who was born with spina bifida, a condition resulting from the spine not developing fully before birth -- was diagnosed with the more severe MND ten years ago. Unlike many other serious medical conditions, research into MND -- which is a progressive, terminal disease affecting cells and nerves in the brain -- receives limited federal funds in the U.K. or U.S. So Duff decided to take matters into his own hands and set about crowdsourcing donations through his JustGiving page.
When Coldplay recently played London, Duff's sister helped him spread the word to his favorite band by passing a letter to them through staff at Royal Albert Hall. The band sent their manager out after the show to invite Duff to come backstage where, he said, " Chris [ Martin ] stopped whatever he was doing and sat next to me and was genuinely interested in finding out about motor neuron disease." The singer then invited Jody, his sister and their friend to the show's after-party and back the following evening for the band's second Royal Albert Hall show, where he dedicated "Fix You" to Duff .
Coldplay later donated ten thousand pounds -- or about $17,000 -- to the research fund, and sent a tweet to fans asking for donations.
If you'd like to kick in, check out Duff's donation page at JustGiving.com/JodyDuff.
Follow @ABCNewsRadio Copyright 2014 ABC News Radio