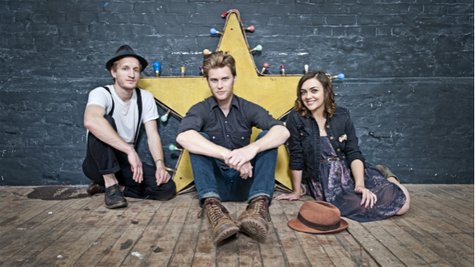 In real estate, the name of the game is location, location, location -- and it could also make a big difference when it comes to a legal matter now facing The Lumineers .
The Grammy winners have filed a motion to have a New Jersey-originated lawsuit against them be transferred to their current home state of Colorado as a matter of convenience, reports the Denver Business Journal .
The New Jersey lawsuit was filed in May by current California resident Jason Van Dyke , who like Lumineers members Wesley Schultz and Jeremy Fraites is from the Garden State. According to Van Dyke's complaint , it was while in New Jersey that the group with Van Dyke -- originally known as 6 Check , then as The Lumineers by 2009 -- wrote such songs as "Flowers in Your Hair" and "Classy Girls," with Van Dyke also creating vocal harmonies for them. Recordings of both tunes appear on a Lumineers EP released in 2009 as well as the band's self-titled debut album in 2012, by which time Van Dyke was no longer a group member.
In addition to authorship credit, Van Dyke is seeking compensation.
"If this lawsuit is transferred to Colorado, I will almost certainly be forced to abandon it," Van Dyke wrote in an affidavit that he filed with the court. "I will simply not be able to afford the expense and travel and related costs for depositions and court appearances for me and my New Jersey attorneys, and the additional burden of finding and paying local Colorado counsel."
Follow @ABCNewsRadio Copyright 2014 ABC News Radio