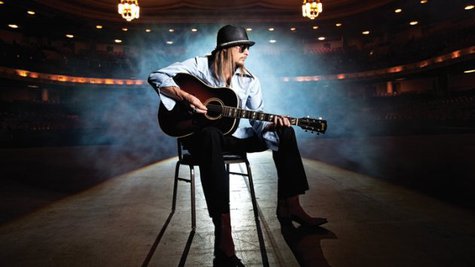 A phallic glass sex toy given to Kid Rock years ago by a former Insane Clown Posse employee is about to become a key piece of evidence in an ongoing sexual-harassment lawsuit against the rap-metal group.
On Monday, Michigan's Rasor Law Firm, which is representing plaintiff Andrea Pellegrini , filed a subpoena giving Rock 14 days to produce the item in question, reports the Detroit Free Press .
Co-defendant Dan Diamond , who worked for Insane Clown Posse and the group's Psychopathic Records, testified Friday in Las Vegas that he tried giving the glass object to then co-worker Pellegrini. When she refused it, Diamond subsequently gave the item to Rock.
Pellegrini, a publicist and in-house attorney at ICP's label for three years, filed a 17-page lawsuit against ICP in September 2013, alleging wrongful termination and harassment, among other claims. Her lawsuit makes specific reference to an incident that occurred on or around July 16, 2012, when Diamond, with two other Insane Clown Posse employees present, allegedly attempted to give Pellegrini a gift, which turned out to be a clear dildo he removed from a velvet bag.
Follow @ABCNewsRadio
Copyright 2014 ABC News Radio