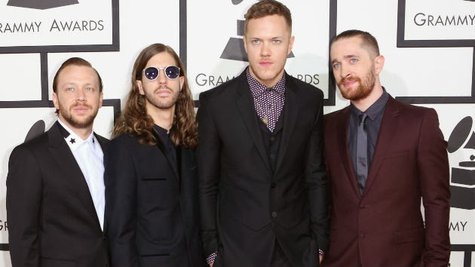 Imagine Dragons will take time out from their European tour this weekend to headline the 2014 Target All-Star Concert presented by Budweiser -- a musical precursor to next week's 2014 Major League Baseball All-Star Game.
The show will take place this Saturday, June 12 at the TCF Bank Stadium in Minneapolis, Minnesota, and is part of a multi-day string of musical performances surrounding the game. Panic! at the Disco is set to perform the day before, just prior to the start of the Taco Bell All-Star Legends & Celebrity Softball Game at Minnesota's Target Field, where the All-Star Game itself will be played.
The All-Star Game will air at 7:30 p.m. ET on Fox, July 15, and will feature a rendition of "The Star Spangled Banner" by Idina Menzel .
After playing the All-Star Concert, Imagine Dragons has a month off. Singer Dan Reynolds recently told Billboard that he and his band mates have amassed more than 100 songs in preparation for a new album, and that they've purchased a house in Las Vegas and converted it into a studio. As for when fans might see a new album, though, Reynolds said, "We told the record label it will be out when it's ready."
Follow @ABCNewsRadio Copyright 2014 ABC News Radio