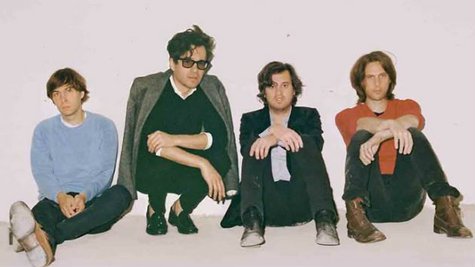 Even though it's only been about eight months since Phoenix released their fifth studio album, Bankrupt! , the band is already tinkering around with ideas for their next record. Frontman Thomas Mars says the guys have been working on new songs during breaks in their busy tour schedule.
"The way we tour is pretty unique," he tells Rolling Stone . "We go for two weeks, then we stop for two or three weeks. And when we're back, we don't really know how to take vacations, so we usually spend time on the record."
While Mars didn't reveal what the new material sounds like, he's excited about what the guys have come up with so far. "It's the beginning of something -- the base of the pyramid," he explains. "Right now, it could go anywhere. It's this moment of pure freedom. The possibilities are endless."
In other Phoenix news, the guys will be the next artist featured on the PBS music series, Live from the Artists Den . Phoenix's episode is set to premiere on February 1, and features the guys performing a concert at L.C. Anderson High School in Austin, TX.
Copyright 2014 ABC News Radio