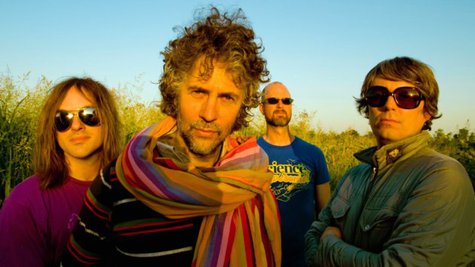 Broken Bells , the side project of The Shins ' James Mercer and producer Danger Mouse , and The Flaming Lips will be just two of the artists paying tribute to the anniversary of The Beatles first appearance on The Ed Sullivan Show , which happened 50 years ago this week.
The artists will be part of a week of programing on The Late Show with David Letterman -- which broadcasts from the Ed Sullivan Theater where the Beatles performed February 9, 1964 -- that will feature a different artist each night playing a classic Beatles tune.
Broken Bells kicks things off Monday, February 3, with a performance of "And I Love Her" from the 1964 Beatles album A Hard Day's Night . The Flaming Lips will appear on Thursday, February 6, together with John Lennon and Yoko Ono 's son Sean Lennon , performing "Lucy in the Sky with Diamonds."
Also taking part in the festivities are Sting , who will perform "Drive My Car" on Tuesday and Lenny Kravitz performing an unannounced song on Thursday. Friday's musical lineup is still a mystery but in early January, Showbiz411.com reported that Late Show producers were hoping to get surviving Beatles Paul McCartney and Ringo Starr to take part in a tribute week, although it's not known if the two stars have agreed.
The Late Show with David Letterman airs weeknights at 11:35 p.m. ET/10:35 p.m. CT on CBS.
Copyright 2014 ABC News Radio