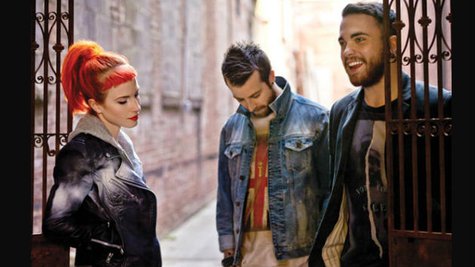 Paramore showed off their ability to break world records in new video for " Ain't It Fun ," the latest single from their self-titled, fourth album.
The nearly four-minute clip features the band participating in record-breaking activities including the fastest time to smash 30 clocks with guitars, which was 31.33 seconds, the most vinyl records broken in 60 seconds and the fastest time running through 10 banners, which the group did in 9.19 seconds.
Each member also scored individual records: bassist Jeremy Davis now holds the record for most feathers caught in 30 seconds, which was 18 feathers, while guitarist Taylor York has the record for longest time spinning a vinyl record on a finger at 32.81 seconds, and frontwoman Hayley Williams snagged the record for longest scream while riding in a convertible at 8.48 seconds. All in all, the band broke a total of ten world records in the video, which is also a world record.
The next big thing for Paramore will be their performance at the eighth annual DirecTV Celebrity Beach Bowl, an event that features celebrities competing against former NFL players in a game of flag football. The Celebrity Beach Bowl takes place on Saturday at Hudson River Park Pier 40 in New York City, on an indoor beach covered with more than a million pounds of sand. The festivities kick off at 1 p.m. ET, with Paramore performing their set at the end of the game at 3:20 p.m. The event is open to the public, but if you can't make it, you'll be able to watch it on DirecTV's Audience Network, NBC Sports Network and Root Sports Networks, as well as internationally on DirecTV's Pan Americana and Puerto Rican outlets.
Copyright 2014 ABC News Radio