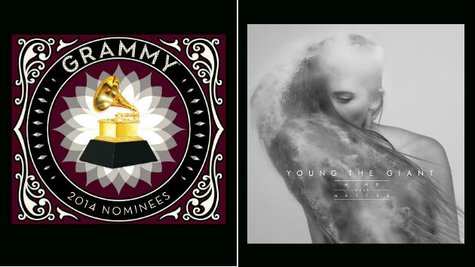 The 2014 Grammy Nominees album and Young the Giant 's sophomore release, Mind Over Matter , are both expected to make big debuts on the Billboard 200 album chart this week.
The Grammy compilation, which features hits by brand-new Grammy-winners Imagine Dragons , Lorde and Daft Punk , is headed for spot in the top five on the tally, with projected sales putting it somewhere around 40,000 copies. If the predictions are true, the album will be the 13th release in the series to debut in the Billboard 200's top 10. Last year's Grammy nominees album was the series highest-charting release, grabbing the #2 spot on the list the week after the 2013 Grammy Awards. That album featured singles by a number of rockers including Muse , Mumford & Sons , The Black Keys , Jack White and Coldplay .
Young the Giant's Mind Over Matter is also gunning for a spot in top five on the Billboard 200, with the album expected to sell over 30,000 copies. If the predictions are true, Mind Over Matter will be the band's highest-charting debut on the tally. The group's 2011 self-titled debut album peaked at #42 on the list and moved 10,000 copies in its best week, according to Nielsen SoundScan.
The new Billboard 200 chart's top 10 will be released Wednesday.
Copyright 2014 ABC News Radio