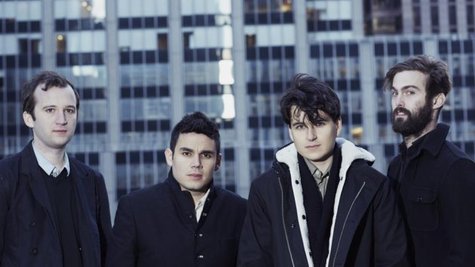 Vampire Weekend 's Modern Vampires of the City fought off releases by The National , Nine Inch Nails , Tame Impala and Neko Case to take home the trophy for Best Alternative Music Album at the Grammy Awards on Sunday night. While frontman Ezra Koenig is indifferent about the band being classified as an alternative act, he feels comfortable being associated with the other artists in that category.
"We don't particularly think of ourselves as being alternative versus not alternative," he told reporters backstage at the event. "Seems like it's an interesting time in music…those distinctions don't mean quite as much, but I can say there's definitely bands who are in that category that we feel a kinship with, so it's not crazy."
Koenig adds the band always strives to explore new musical ground on all their releases, noting that bringing in Ariel Rechtshaid as a co-producer for Modern Vampires of the City helped nurture that process. "Working with an additional producer as a co-producer Ariel certainly changed the vibe in the studio a bit, but with every album we always internally wanted to do something different," says Rechtshaid. So even from the first [release] to the second we changed things up, so that's always been a part of how we make records."
Vampire Weekend is currently on a break from touring, but they'll head back out on the road to make an appearance at Lollapalooza Chile and Argentina in March and April. The group will kick off another batch of U.S. tour dates starting April 24 at Stubb's BBQ in Austin, TX. Visit VampireWeekend.com for the full itinerary.
Copyright 2014 ABC News Radio