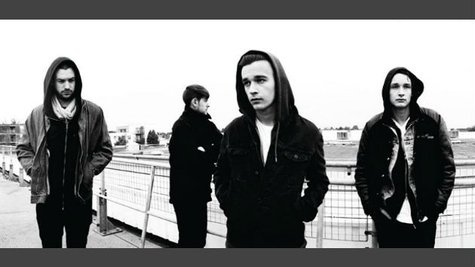 Even though it's only been about four months since The 1975 released their self-titled debut solo album, the group is already throwing around ideas for their next release. Frontman Matt Healy says the guys have been trying out a new songwriting process while they're out on the road, and its producing some interesting results.
"We never really wrote individually, because we lived in the same rooms, we wrote on the same laptops," he tells MTV . "Now there's two laptops, now I've got a guitar, so we're writing individually. We want it to be a distillation of everything that preceded it; the heavier bits are heavier, the ambient bits are more dramatic and emotive, the sentiments are deeper and heavier."
Healy hints some of the new cuts could make an appearance sometime this year, but he's not making any promises. "We might do an EP actually…later on this year," he declares. "Maybe not. We said that we want, if we could, to put out a second album two years to the day from when the first one [came out] that would be very 1975 of us. We'd be quite up for that."
The 1975 is currently touring overseas, but they'll be back to kick off the next leg of their North American tour beginning with an appearance at the Coachella Music and Arts Festival on April 13 in Indio, CA.
Copyright 2014 ABC News Radio