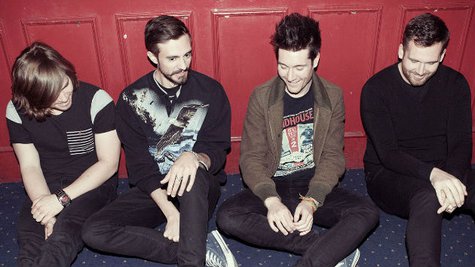 If you make it out to see Bastille on tour, you just may get treated to " Of the Night ," the group's mashup of two '90s dance tracks, Corono 's "The Rhythm of the Night" and Snap! 's "Rhythm is a Dancer." Multi-instrumentalist Will Farquarson reveals the idea for the song came out of a vocal exercise they created for frontman Dan Smith .
"It started off because Dan got really ill when we first got signed, and so to ease his way back into vocal recording we decided to do some mixtapes using old songs that we listened to growing up," he tells Billboard . "Then we started doing it live just because it was a cool song and was fun to play, and audiences started to really kind of dig it. And it all started off like a little experiment."
Farquarson adds that the group is constantly working on new material while they're out on the road, noting they like to spend time in the studio whenever they have some time off at home in London. "We like to try and stay busy, and when you're touring as much as we are we don't want to let the creativity become muted," he explains. "Dan loves to write and we love to get in the studio and do some stuff. So I think it's good whenever we're back in London to make sure we're busy writing new stuff to keep the creative muscles exercised."
Copyright 2014 ABC News Radio