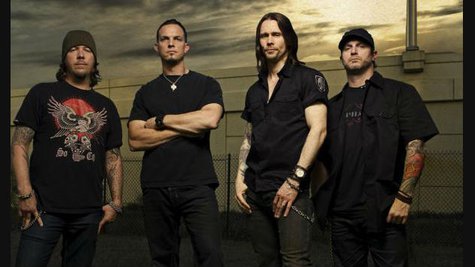 Alter Bridge 's Myles Kennedy and Mark Tremonti recently sat down with Billboard.com to discuss the band's 10th anniversary and the way their music has changed over the past decade.
"We've taken more and more risks with each record," Kennedy said in a video interview posted to the website. He pointed out that the band's 2004 debut, One Day Remains , was released only four months after the band was formed, so the 2007 release Blackbird was where they really began to develop its sound through "trial and error." But on their most recent set, Fortress , they began to "really take significant risks from a musical standpoint [and] an arrangement standpoint."
The key to the most recent album, Kennedy continued, was that "we didn't allow ourselves the luxury of over-thinking."
"It sounds more natural when you just let it happen," Tremonti explained. And in the case of Fortress , he says, that resulted in the band branching out into something other than a traditional album structure.
As for the band's future, Tremonti says they plan to "keep surprising people and not doing what we've done in the past."
The duo also performed three songs -- " Addicted to Pain ," " Rise Today " and " Watch Over You " -- in the Billboard studio. Videos of each performance have been posted to the website.
Copyright 2014 ABC News Radio