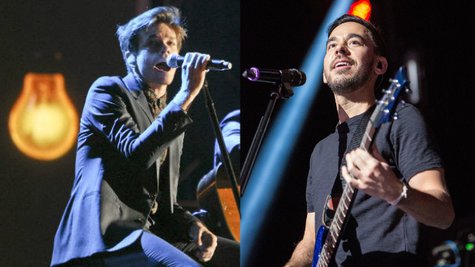 Got writer's block? Well, how great would it be to get advice on how to be creative from someone like, say, Mike Shinoda of Linkin Park or fun. frontman Nate Ruess ? Well, now, you can, thanks to a partnership between Stanford University and Warner Music Group.
As the Los Angeles Times reports, Shinoda and Ruess, as well as Tegan and Sara , and pop stars Jason Mraz and Josh Groban, have signed up to participate in a free online course on creative problem solving called "Creativity: Music to My Ears." The six-week class isn't only for musicians, though; it'll simply use music as a "tool for unlocking creative potential," and each of the sessions will focus on a different aspect of creativity.
According to the paper, the course description reads, " No musical talent is required -- just an interest in exploring the role that music plays in our lives." It begins April 2 and you can register through Stanford's website. But be warned: this isn't some gut class. Each week, you'll have to do a project that will take five hours to complete.
Copyright 2014 ABC News Radio