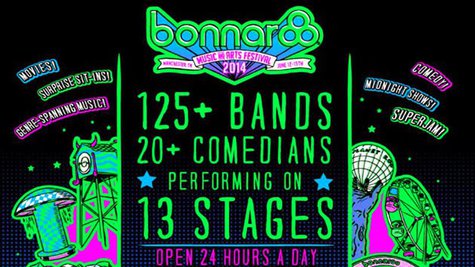 Perhaps you remember Kanye West 's 2008 Bonnaroo performance, a near-legendary disaster than began eight hours late, by which time fans were so over it, you could barely hear the rapper over the angry chants of "Kanye sucks." The finger-pointing between camp Kanye and festival organizers continued for weeks. Which has a lot of folks scratching their heads over seeing Kanye's name when the roster of this year's Bonnaroo performers was released Wednesday.
Apparently, all is forgiven. "Everyone has moved on -- it's in the past," co-organizer Rick Farman , of New York-based promoter Superfly, tells Relix . "We're happy [Kanye] wants to come back to Bonnaroo and is embracing this. It's a great opportunity for everyone to look forward, and we think it's a great opportunity for the Bonnaroo community to show what it's made of."
Of course, it also doesn't hurt that Kanye's Yeezus tour is currently one of the biggest draws on the road. Farman calls West "one of the most prolific and groundbreaking artists of this generation. …He's also a great live performer. He takes a lot of chances and he's adventurous with the live space. All those things are what Bonnaroo performers are about. That's why we booked him [in 2008].
Bonnaroo, featuring Jack White , Vampire Weekend , Arctic Monkeys , Skrillex , The Flaming Lips and more, runs June 12 through 15 in Manchester, Tennessee. Visit Bonnaroo.com for more info.
Copyright 2014 ABC News Radio