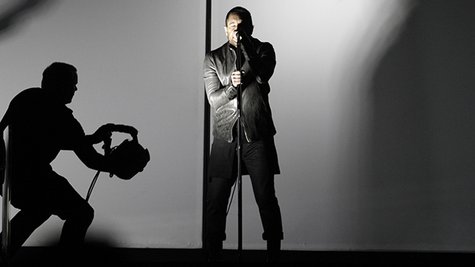 There is no love lost between Trent Reznor and the Grammys. At the end of this year's Grammys telecast, Nine Inch Nails ' performance -- with Queens of the Stone Age , Foo Fighters frontman Dave Grohl and Fleetwood Mac 's Lindsey Buckingham -- was cut short, leading Reznor to direct a profane tweet toward the show. The Grammys' producer apologized to Reznor through The Hollywood Reporter , but it seems it's still left a bad taste in the singer's mouth.
In an interview with New Zealand's 3 News , he calls the Grammys "an utter waste of time."
"I'm not a fan of the Grammys...but the way my head works is, to try to approach it from, 'Okay, if we did do it, what could be the upside?' And Josh [ Homme ] and I spent a long time talking about the pros and cons," he says. "You know, 'Do we want to be on a s*** show on TV? No, not really. Do we want to be affiliated with the Grammys? No, not really. Would we like to reach a large audience and actually do something with integrity on our terms? Well, yeah. Let's roll the dice and go into it with the best intentions, with a performance we think is worthy and might stand out from the crowd. Or it might not!'"
Reznor says he considers the way events worked out as a "lesson learned." He says, "I don't regret that we did it, but would I ever -- in any situation -- ever consider possibly patronizing that event in any form? Absolutely not."
Nine Inch Nails and Queens of the Stone Age will spend the better part of March on a co-headlining tour of Australia and New Zealand, and then Reznor plans a little gift for Nine Inch Nails fans, in the form of a reissue of Fragile , the band's 1999 double album.
Reznor says the reissue will include not only a new surround sound mix of the album, but also a bevy possibly of unreleased material. "I just stumbled across 40-or-so demos that are from that era that didn't turn into songs, that range from sound effects to full-fledge pieces of music, and I kind of feel like - something should happen with that," he says. "I just need the bandwidth to kind of calmly think about it."
Nine Inch Nails and Queens of the Stone Age will be on tour in Australia and New Zealand from March 6-22.
Copyright 2014 ABC Radio News