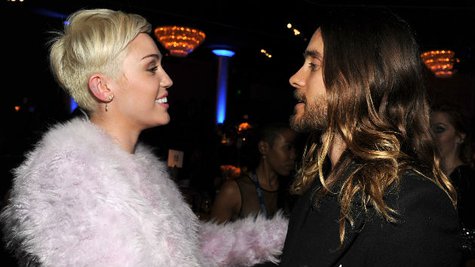 Miley Cyrus may not seem like the kind of girl that Jared Leto would go for, but according to US Weekly, the 30 Seconds to Mars frontman and the Queen of Twerk have something going on.
They two stars are "hooking up," a source claims to the magazine, adding that Miley "stayed over at his house in L.A. in early February." That was shortly after the two were seen together at a pre-Grammy Awards party on January 25.
A second source says that Miley, who's 21, and Leto, who's 42, have "known each other for a while," while a third says the two are compatible. "They like to have a good time, they love to talk about art and music -- and they're both comfortable with nudity!" the source claims.
At this point in time, Leto, who was once involved with Cameron Diaz , may be too distracted to think much about romance. He's up for a Best Supporting Actor Oscar for his role as Rayon, a transgendered woman, in Dallas Buyer's Club.
Copyright 2014 ABC News Radio