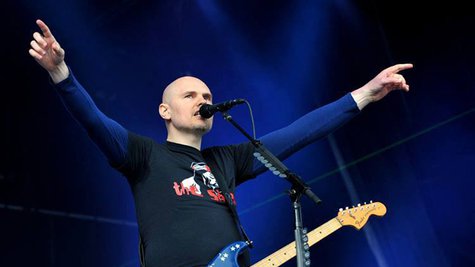 You know that book Siddhartha , which you were supposed to read in high school or college but never did? No worries -- Billy Corgan 's got you covered.
The Smashing Pumpkins frontman says he'll perform an "ambient/musical interpretation of Hermann Hesse 's Siddhartha " at Madame Zuzu's, his New York City teahouse. The good news: it's free. And you certainly will be getting your money's worth -- Corgan says the event, scheduled to begin at noon February 28, will last eight or nine hours, although it will apparently stretch over into Saturday, which suggests there will be some breaks in there. He adds that it will be "built by modular synthesis, on the fly. Readings of the text to go hand in hand with whatever is created."
First published in Germany in 1922, Siddhartha tells the story of the title's character's journey of spiritual self-discovery as he leaves home as a young man and travels the land. The English translation was published in the U.S. in 1951 and, like Hesse's subsequent novel, Steppenwolf , it was embraced by the 1960s and '70s counterculture.
Seating is first-come, first-served. You can learn more about the performance at Madame Zuzu's website .
Copyright 2014 ABC News Radio