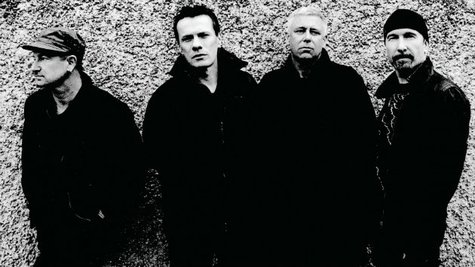 For U2 fans, the song "Ordinary Love" is a bit of a double-edged sword. The tune -- which the band wrote for the film Mandela: Long Walk to Freedom -- has been nominated for an Oscar and will be performed live by the band on the Academy Awards telecast. But work on the single apparently delayed progress on the band's upcoming album.
In a new interview with Billboard , The Edge says that he and his band mates were in the middle of intensive work on the album when they got a call from movie mogul Harvey Weinstein on behalf of Mandela 's director and producer, asking if the band would work up a song for the soundtrack. "When we got the call from Harvey to say, 'It's happening, are you in?,' it was like, 'Oh man, really? Now?' But we just had to do it, with the history that we have with the man and the cause," says Edge.
"It was hard to stop what we were doing," drummer Larry Mullen Jr. said. "We were on a roll -- it was clear where we were going. And a decision was made to abandon ship, more or less, to focus on this."
U2 has a longstanding commitment to the fight against apartheid in South Africa, and the members agreed that there was no way they would pass up this opportunity. "This was the one project you just couldn't say no to," said bassist Adam Clayton . "For our generation, South Africa was a real illustration of how music could affect change in the world, and it was a rite of passage in terms of our political awareness."
The new, still-untitled U2 album is tentatively slated for a summer release. The band will perform "Ordinary Love" March 2 at the Oscars which air live on ABC at 7 p.m. ET/4 p.m. PT.
Copyright 2014 ABC News Radio