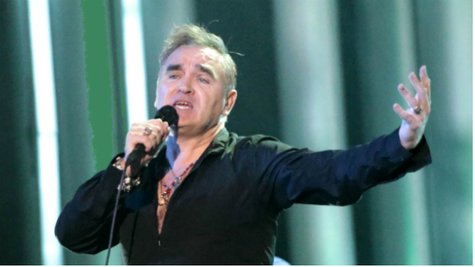 2013 was a tough year on the road for Morrissey . The former frontman of The Smiths was forced to cancel dozens of tour dates in North and South America after a series of illnesses befell him and members of his band. But now it appears as though the singer is ready to once again bring his music to the fans.
Billboard has confirmed news of a U.S. tour that was first reported by the Morrissey fan site True to You . The 25-date trek will keep Morrissey on the road from May 7, when the tour opens in San Jose, CA, through June 21, when he'll play the Barclays Center in Brooklyn, NY.
On at least two of the dates, Morrissey is bringing along famous British singers of the '60s to open for him. Welsh singer Tom Jones will open in Los Angeles, while English pop-rock legend Cliff Richard will open in Brooklyn. Jones is best known for his hits "She's a Lady" and "It's Not Unusual," while Richard's biggest U.S. hits include "We Don't Talk Anymore" and "Devil Woman."
Kristeen Young will be the regular opener on all dates.
As reported last month, Morrissey is at work on a new album due sometime later this year under a new deal with Harvest Records, an imprint of Capitol Music Group.
Here are the tour dates as confirmed by Billboard :
5/7 -- San Jose, CA, National Civic Auditorium
5/10 -- Los Angeles, CA, Los Angeles Sports Arena
5/13 -- El Paso, TX, Plaza Theater
5/14 -- Albuquerque, NM, Sunshine Theater
5/16 -- Salt Lake City, UT, Kingsbury Hall
5/17 -- Denver, CO, Ellie Caulkins Opera House
5/19 -- Lincoln, NE, Rococo Theatre
5/20 -- Lawrence, KS, Liberty Hall
5/22 -- Dallas, TX, Majestic Theatre
5/24 -- Austin, TX, Austin Music Hall
5/25 -- Beaumont, TX, Julie Rogers Theatre
5/27 -- Memphis, TN, Orpheum Theatre
5/28 -- Nashville, TN, Ryman Auditorium
5/30 -- St Petersburg, FL, Mahaffey Theater
5/31 -- Miami, FL, Knight Concert Hall
6/4 -- Atlanta, GA, Cobb Energy Center
6/6 -- Atlantic City, NJ, Revel Ovation Hall
6/7 -- Boston, MA, Boston Opera House
6/10 -- Baltimore, MD, Meyerhoff Symphony Hall
6/13 -- Chicago, IL, Civic Opera House
6/14 -- Flint, MI, James Whiting Auditorium
6/16 -- Lewiston, NY, Artpark Main Stage Theater
6/17 -- Wilmington, DE, Grand Opera House
6/19 -- Hershey, PA, Hershey Theatre
6/21 -- Brooklyn, NY, Barclays Center Arena
Copyright 2014 ABC News Radio