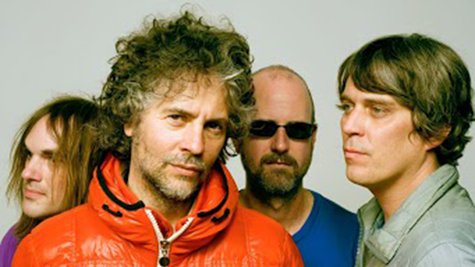 Wayne Coyne wrapped up a mini record store tour this week. The Flaming Lips frontman spent a few days visiting independent East Coast record stores where he met fans and signed copies of the Lips' latest release -- an elaborate, limited edition of The Flaming Lips 1st EP on colored vinyl.
The EP comes packaged with an anatomically correct, life-sized white chocolate skull containing a golden coin that fans can use to attend any of the group's upcoming headlining gigs anywhere in the world.
This crazy-sounding project is pretty much par for the course for Coyne, who routinely incorporates skulls -- and lots of them -- into the Flaming Lips' live shows and album artwork. In fact, Coyne tells ABC News Radio that he's so well-known for skulls, that people approach him with novel skull ideas. That's how the chocolate skull came to be.
Coyne said he was getting off a plane in Texas when another passenger waiting to disembark approached him. "She said, 'I heard that you did, like, a Gummi skull for a release a couple years ago,'" Coyne recalls. "I said, 'Yes.' She says, 'I'm a crazy woman that does chocolate. We should do something crazy in chocolate.'" And so the chocolate skull was born.
The Flaming Lips place a high level of emphasis on creativity and not quite as much on commercial success; Wayne Coyne says that even though his band isn't making "a billion dollars [like U2 ]...for normal dudes who make weird music...we do fine."
Copyright 2014 ABC News Radio