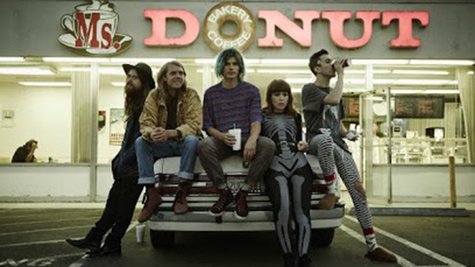 European Grouplove fans are out of luck -- the band has had to scrap plans for upcoming shows until singer Hannah Hooper recuperates from a vocal issue.
The band posted issued the following statement on its website : "We are deeply sorry to announce that we will be postponing our upcoming shows in the UK and Europe. Hannah is under strict orders from the doctor that she cannot sing (or talk for that matter) for the next four weeks as she undergoes a procedure to repair an aggravated vocal chord." Band members also say they "promise to do everything we can to make it up and come back as soon as we possibly can (we're planning for May now)... we are deeply sorry for any additional inconvenience this causes you... and hold on to your tickets, they will still be valid."
Grouplove's documentary, I'm With You , will be available for purchase on iTunes and at Amazon.com starting February 25. The release features interviews with the band and performance footage shot during a week in New York City on their 2013 SeeSaw Tour. If you buy the movie, you'll also get a six-track EP featuring live versions of "Colours," "Schoolboy," "I'm With You," "Raspberry," "Ways to Go," and "Gold Coast," all recorded during the SeeSaw Tour.
Copyright 2014 ABC News Radio