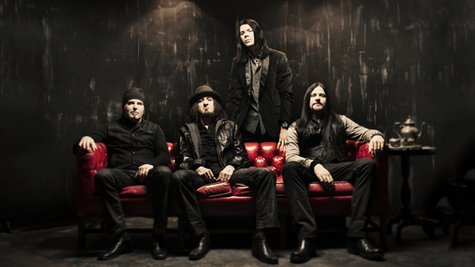 You can't blame Saliva fans for worrying when original lead singer Josey Scott left the band at the end of 2011, just months after the release of Under Your Skin . They had to wait nearly two years for In It to Win It , the first album to feature new lead singer Bobby Amaru . However, Saliva's not making us wait another two years for their next studio effort.
Titled Rise Up , the album will hit the usual retailers April 29, though the title track is streaming now on the band's official website ahead of its official release Tuesday, February 18.
Guitarist Wayne Swinny says adding Amaru to the mix has revitalized the band, which celebrated its 17th anniversary last September: "We're lucky to have found him. …He really energized the rest of us. He's a great songwriter, and a top-shelf producer in his own right."
You can find out more info at Saliva.com . Here's the track listing for Rise Up :
"She Can Sure Hide Crazy"
"Choke"
"Lost"
"1000 Eyes"
"The Enemy"
"Rise Up"
"I Don't Want It"
"No One but Me"
"In It to Win"
"Redneck Freakshow"
"Animal"
"Flesh"
Copyright 2014 ABC News Radio