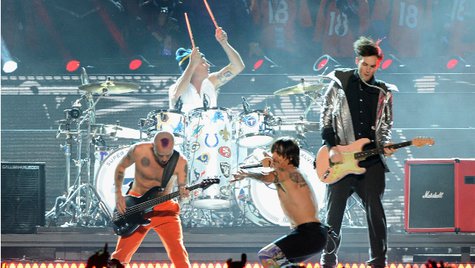 When the Red Hot Chili Peppers performed "Give It Away" as part of the Super Bowl halftime show with pop star Bruno Mars on Sunday, many viewers noticed that Flea 's bass didn't appear to be plugged into anything -- not a cable to an amp, not a wireless pack.
Well, now Flea has come clean. In a message posted to the band's website on Tuesday, Flea admitted that while the vocals were live, the band was playing along without amps to a track the band had pre-recorded.
"When we were asked by the NFL and Bruno to play our song 'Give It Away' at the Super Bowl, it was made clear to us that the vocals would be live, but the bass, drums, and guitar would be pre-recorded. I understand the NFL's stance on this, given they only have a few minutes to set up the stage, there [are] a zillion things that could go wrong and ruin the sound for the folks watching in the stadium and the t.v. viewers," he wrote. "There was not any room for argument on this, the NFL does not want to risk their show being botched by bad sound, period."
The bass player adds that the band's stance has been to not mime performances, and the Chilis hadn't done so since the '80s. "There was a lot of confusion amongst us as whether or not we should do it, but we eventually decided, it was a surreal-like, once in a life time crazy thing to do and we would just have fun and do it," Flea writes.
He adds that the band could have plugged into amps and made it seem like the sound people were hearing was the same as what was being played on stage but, "We thought it better to not pretend. It seemed like the realest thing to do in the circumstance. It was like making a music video in front of a gazillion people, except with live vocals, and only one chance to rock it."
Flea concludes by thanking the NFL and Bruno Mars, adding, "I would do it all the same way again."
Copyright 2014 ABC News Radio