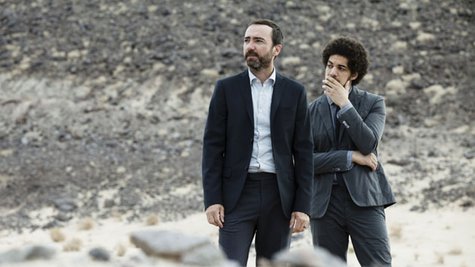 Late Show with David Letterman on Monday night kicked off its week-long celebration of The Beatles ' debut appearance on The Ed Sullivan Show 50 years ago. All week, artists will appear on the CBS late-night program, which is taped at the Ed Sullivan Theater in New York, to cover songs by the Fab Four.
On Monday night, Broken Bells delivered a unique version of "And I Love Her" that incorporated some of the orchestral elements of "I Am the Walrus." In between members James Mercer and Danger Mouse was a TV set that displayed footage of the Beatles films Help! and A Magical Mystery Tour , plus their worldwide broadcast of "All You Need Is Love."
Sting will stop by the Late Show Tuesday to perform "Drive My Car." Lenny Kravitz and The Flaming Lips with Sean Lennon will follow the next two nights.
On Sunday night, CBS will air its two-and-a-half-hour Beatles/ Ed Sullivan Show tribute featuring the Eurythmics , Maroon 5 , John Mayer , Alicia Keys and others.
Copyright 2014 ABC News Radio