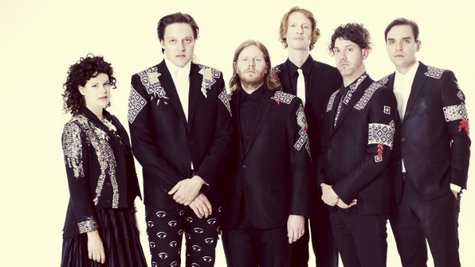 Arcade Fire will play Haiti later this month. The band's management has confirmed to ABC News Radio that Arcade Fire will perform at the country's Carnival celebration, which is held just before Mardi Gras each year. Arcade Fire will join local Haitian entertainers -- who are usually the only performers at Carnival -- in the Southern coastal town of Jacmel on the evening of February 21.
The event marks the first time Arcade Fire has performed in Haiti, though its members have been outspoken in their support of the country. Arcade Fire co-founder Regine Chassagne 's parents are both Haitian, and she refers to her lineage in the lyrics of "Haiti," from Arcade Fire's 2004 album, Funeral .
A trip to Haiti that Chassagne and her husband and band co-founder, Win Butler , took before writing Reflektor was "life-changing," Butler told Rolling Stone , and ended up shaping his songwriting process for that album. Arcade Fire has also helped raise awareness and money for relief efforts following Haiti's country's disastrous earthquake in 2010.
Copyright 2014 ABC News Radio