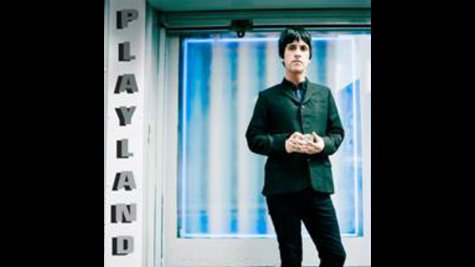 Some artists worry about the sophomore jinx but Johnny Marr isn't one of them.
The former Smiths guitarist is planning to release Playland , his second solo album, on October 7. The new disc comes just a year after his solo debut, The Messenger , and picks up where that album left off. Marr tells Rolling Stone , "I just wanted to take the energy of the band I was touring with and put it into the new songs. I kept on writing as soon as The Messenger came out… I didn't want to change what I was doing."
Songs on Playland include "Back in the Box," "Dynamo," "Easy Money" and the title track. Of "Easy Money," Marr says, "If you were to ask anybody in the City [London's financial district] what they're after, essentially the root of it is money. It's the age-old thing of people thinking that it will make us happy… I like the idea of sneaking a serious concern into the mainstream, disguised as a big pop tune."
As for the title track, Marr explains, "A song like 'Playland,' it's just classic sex, drugs and religion in a rock and roll song. In that way, it's not really millions of miles away from a Patti Smith song."
The album as a whole, Marr says, is about the cost of escapism. "Are drugs and sex and adrenaline something people are pursuing or are we trying to run away from something?" he says. "They're themes that can be celebratory, and you can hear the music that way, but at the same time it could also be symptoms of mental illness."
Meanwhile, Marr says he has another 18 months of writing to do on a planned memoir, but he says the book will not be a response to the memoir is former band mate and songwriting partner Morrissey published last year, calling his book "my life story, it won't be any kind of response to anything."
Follow @ABCNewsRadio
Copyright 2014 ABC News Radio