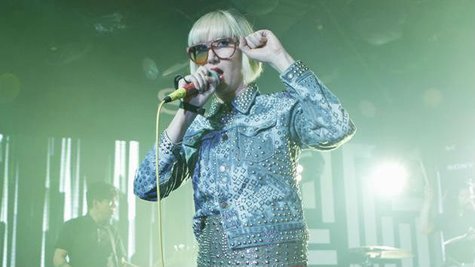 Yeah Yeah Yeahs frontwoman Karen O will support her upcoming solo debut, Crush Songs , with a series of intimate live dates this fall in New York City, Los Angeles, London and Berlin.
The New York City dates will be September 9 through 11 at the McKittrick Hotel's Manderley Bar and September 12 at Le Poisson Rouge. In L.A., she will appear at the Masonic Lodge September 17 through 19. Tickets for shows in both cities go on sale Friday at 3:00 p.m. ET.
O says, "If you're in the mood for love, please come join my crush odyssey at these limited engagements. I apologize in advance that the shows are so few but I guess that makes them all the more special." Of the album -- which was actually recorded in 2006 and 2007 -- she adds, "When I was 27, I crushed a lot. I wasn't sure I'd ever fall in love again. These songs were written and recorded in private around that time. They are the soundtrack to what is an ever continuing love crusade."
Crush Songs arrives September 9, the day of O's first New York show, at the usual outlets.
Follow @ABCNewsRadio
Copyright 2014 ABC News Radio