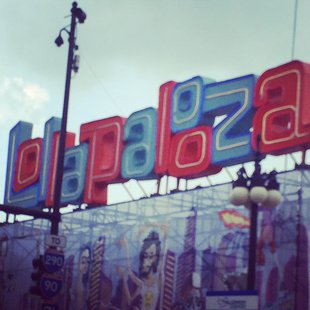 CHICAGO (Z965/941WVIC) -- Click here for our station's Lollapalooza 2014 coverage.
In the media lounge backstage at Lollapalooza bloggers, radio jocks, and TV music stations get the rare opportunity to meet and question nearly every band rocking the stages during the 3-day festival. After meeting a good share of this year's line-up, I'm going to answer the question everyone REALLY wants to know: "What are they actually like?"
BROKEN BELLS, what they're actually like (in 5 words)
1. RESERVED
When Brian Burton (better known as Danger Mouse) and James Mercer spoke with us backstage at Lollapalooza we were warned by his polite representation that Brian did not like photos but had no problem being videotaped. Media don't usually appreciate when artists put censorship on our coverage; however, it was done in such a polite and respectful way that all media had no problem honoring the Danger Mouse's request. For that reason I would say Broken Bells is more reserved than most bands.
2. REFLECTIVE
Both BROKEN BELLS members answered any questions they were asked with politeness and seemed to really reflect on their responses before giving them. Intellect and detail were present in conversation with these two crooners.
3. INTRUIGING
Because of their reflectiveness and reserved behavior, there is a raised level of intrigue when it comes to BROKEN BELLS. They both seemed like the type of artists that would be fun to watch in a documentary. Maybe someday...
4. INTIMIDATING
Although polite, the reserved nature these two possessed was a bit hard to relate to in an interview setting. Even though it's good to ask every touring artist the basic questions of "what's new" or "who do you look up to", these types of questions were not appropriate for BROKEN BELLS. They both seemed bored with the same surface level questions and were quick to dismiss those asking them.
5. FASHIONABLE
Mostly this is to describe Danger Mouse. Brian had on a tailored suit, perfectly shaped afro, and stunning aviators that made him look as if he walked fresh off the set of a GQ photo shoot. When you got swagger it's only fitting to dress the part.