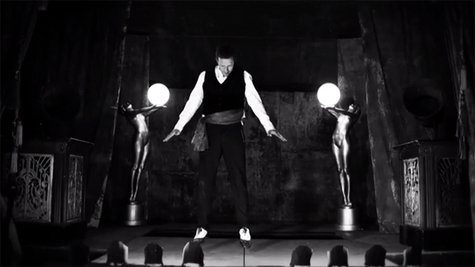 How did Chris Martin levitate in the new Coldplay video? The director of the clip, Pete Ohs , doesn't want fans of the band to lie awake at night wondering -- so he's put together a little behind-the-scenes look at the magic behind the "Magic" video.
In the four-and-a-half minute compilation, Martin fools around with the cast, tries out magic tricks and is pulled upward by wires. The director frets about time, the sun setting and everyone looking the way they're supposed to. Despite whatever separation Chris Martin and Gwyneth Paltrow might have been negotiating at the time of the production, Martin seems relaxed and happy.
The behind-the-scenes "Magic" video can be viewed on Coldplay's YouTube channel .
"Magic" is the first single from Coldplay's new album Ghost Stories. The album features nine tracks and is scheduled to arrive in stores and digital outlets on May 19. An exclusive deluxe edition being offered by Target will include three bonus tracks. If you pre-order the album now on iTunes, you'll receive an instant download of "Magic."
Copyright 2014 ABC News Radio