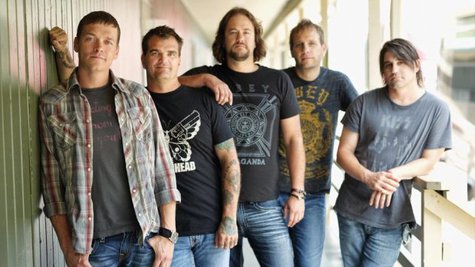 3 Doors Down 's acoustic tour earlier this year went so well that the band has announced a summer edition -- with some electric concerts sprinkled in along the way. In fact, the band's summer tour will begin May 30 at the Table Mountain Casino in Friant, CA with an electric date, and wrap up September 13 at the Kansas State Fair with another electric date.
However, most of the performances on the 48-show trek will be acoustic outings as part of the band's 3 Doors Down Acoustic - Songs from the Basement tour, which began in January. During these unplugged dates, the band is reaching deep into its catalog for more obscure numbers.
"The acoustic shows are a blast, and we have an amazing connection with our fans during the performances," says frontman Brad Arnold in a statement. "We are excited to get back out on the road and play these songs for the rest of America."
3 Doors Down has also begun work in Nashville on a sixth studio album expected to be released in 2015. Earlier this year Arnold told ABC News Radio, "We want our new record to be fun, but we also want it to have a lot of meaning, and we want it to be heavy."

Here are new dates for the 3 Doors Down summer tour:

5/30 -- Friant, CA, Table Mountain Casino *
5/31 -- Temecula, CA, Lake Skinner Regional Park* (Temecula Valley Balloon & Wine Festival)
6/03 -- Coquitlam, BC, Hard Rock Casino Vancouver
6/04 -- Prince George, BC, CN Centre
6/06 -- Calgary, AB, Cowboys
6/07 -- Bonnyville, AB, C2 Flint Field House
6/09 -- Regina, SK, Casino Regina Show Lounge
6/10 -- Winnipeg, MB, Club Regent Casino - Event Center
6/11 -- Apple Valley, MN, Weesner Amphitheater
6/14 -- Las Vegas, NV, "Rock Of Vegas" - Fremont Street Experience*
6/28 -- Okinawa, Japan, Kadena Air Base*
6/29 -- Okinawa, Japan, Kadena Air Base*
7/04 -- Oahu, HI, Joint Base Pearl Harbor - Hickman*
7/12 -- Springfield, MO, Gillioz Theater
7/13 -- Cedar Rapids, IA, The Paramount Theatre
7/15 -- Chicago, IL, House of Blues
7/18 -- Oshkosh, WI, Rock USA*
7/19 -- Goshen, IN, Elkhart County Fair*
7/20 -- Norfolk, NE, MusicFest 2014 - DeVent Center*
7/23 -- Lewiston, NY, Artpark - Outdoor Amphitheater*
7/24 -- Jim Thorpe, PA, Penn's Peak
7/26 -- Readington, NJ, Quick Chek Festival of Ballooning*
7/27 -- Hyannis, MA, Cape Cod Melody Tent
7/29 -- Westbury, NY, The Space at Westbury
7/30 -- Cohasset, MA, South Shore Music Circus
8/01 -- Newport, RI, Newport Yachting Center
8/02 -- Hampton Beach, NH, Hampton Beach Casino Ballroom
8/03 -- Portland, ME, Maine State Pier
8/05 -- Hershey, PA, The Hershey Theatre
8/07 -- Cincinnati, OH, Taft Theatre
8/08 -- Washington, MO, Washington Town & Country Fair*
8/17 -- Durham, NC, Durham Performing Arts Center
8/19 -- Charlotte, NC, The Fillmore Charlotte
8/20 -- Norfolk, VA, The Norva
8/23 -- Durant, OK, Choctaw Event Center*
8/24 -- Midland, TX, Wagner Noël Performing
8/26 -- Corpus Christi, TX, Selena Auditorium
8/27 -- Pharr, TX, Pharr Entertainment Center
8/29 -- Charenton, LA, Pavilion at Cypress Bayou Casino
8/30 -- Beaumont, TX, Jefferson Theater
8/31 -- Abilene, TX, Paramount Theatre
9/03 -- Lake Buena Vista, FL, House of Blues
9/05 -- Tampa, FL, Hard Rock Hotel & Casino
9/06 -- Fort Myers, FL, Barbara B. Mann Performing Arts Hall
9/07 -- Jacksonville, FL, Florida Theatre
9/10 -- Atlanta, GA, Tabernacle
9/11 -- Louisville, KY, Palace Theatre
9/13 -- Hutchinson, KS, Kansas State Fair*

* denotes electric performance
Copyright 2014 ABC News Radio