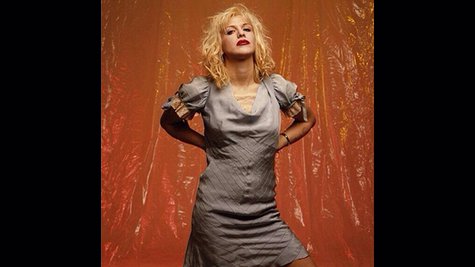 It's been an up-and-down week for Courtney Love . The singer and widow of Kurt Cobain saw her late husband's band Nirvana inducted into the Rock and Roll Hall of Fame Thursday night, but earlier in the week a Los Angeles court ordered her to pay $96,000 to a fashion designer she'd defamed, The New York Post reports. That amount is actually the balance of the $450,000 Love was initially ordered to pay in 2011 in her out-of-court settlement with designer Dawn Simorangkir , but Love fell short of the total payment, leaving the nearly $100k balance.
Additionally, the paper notes that Love has been hit with a tax bill of more than a quarter million dollars. The accounting behind it is complicated but amounts to this: Love allegedly owed a small amount in 2009 and a large amount in 2012, and combined they make a really large amount.
Over the years, Courtney Love has alleged that she's repeatedly been taken advantage of financially. A 2001 Vanity Fair article says Love has blamed her money woes on " nearly every lawyer, CPA., and record-label executive she has ever known; forged documents; identity theft; fraudulent Social Security numbers...two of which, she said, belonged to "the [same] deceased Mexican hairdresser.'"
Need some good news? Courtney Love recently told the website The Quietus that she's reunited with HOLE's original lineup -- Patty Schemel, Eric Erlandson and Melissa Auf der Maur -- and that they've begun rehearsing new material.
Copyright 2014 ABC News Radio