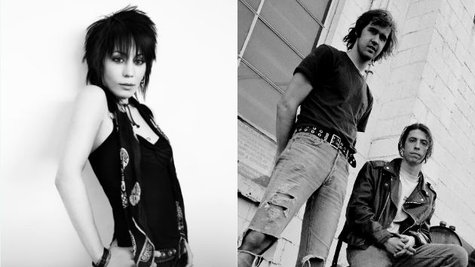 The rumor has been confirmed: Joan Jett will stand in for the late Kurt Cobain when Nirvana 's surviving members perform tonight at the Rock and Roll Hall of Fame induction ceremony in Brooklyn, New York.
Multiple sources report that the onstage collaboration will indeed happen, including AlternativeNation.net , which has posted a video in which you can hear Jett rehearsing "Smells Like Teen Spirit," apparently with the Nirvana guys. Word that the punk pioneer might be hitting the stage with the grunge rockers began to circulate on Wednesday, when a photo appeared on the Foo Fighters ' Instagram page showing Krist Novoselic 's bass, Pat Smear 's guitar, Dave Grohl 's drum set and Jett's battered white Gibson Melody Maker guitar.
Jett is a longtime friend of the Foos and has played with the band a number of times, including on The Late Show with David Letterman . In addition, Grohl recently collaborated with Jett on "Any Weather," the lead single from her latest studio album, Unvarnished .
Nirvana will be inducted into the Rock and Roll Hall of Fame tonight along with KISS , Peter Gabriel , Hall and Oates , Cat Stevens and Linda Ronstadt . R.E.M. frontman Michael Stipe will induct the band.
Copyright 2014 ABC News Radio